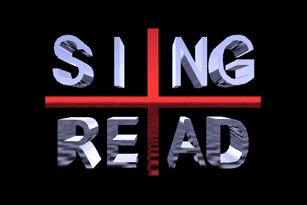 The most flexible and affordable software for displaying songs, hymns, Bible passages, notices and orders of service in a worship setting! So easy to operate, even non-technical volunteers will learn it quickly, and enjoy using it! This is the software replacement for your overhead projector!
Anyone who can use an overhead projector
can use SING AND READ!
--- CAN BE USED WITH "INTERNET BROADCASTING" ---

SAR on the radio
On 2 occasions Peter Morgan, author of SAR, has been featured on BBC Radio. Both broadcasts can be heard here in mp3 format by clicking on the following links. Left-clicking them will open them in the program assigned to stream them online, or you can download them to listen to on your favourite mp3 player by right-clicking the links and choosing 'save as'.
1999 Broadast
Listen to this broadcast dating back to 1999, explaining the principles of SAR and how simple and fast it is to use, and the enormous difference it can make for you! Listen here (2.2 Mb .mp3)
2001 Broadcast
Listen to this broadcast from 2001, going further into the subject. What are the reactions from user's churches? How much would it all cost? What about a video projector? Can I put texts on the wall, like the newly released C of E complete texts? Listen here (1.7 Mb .mp3)