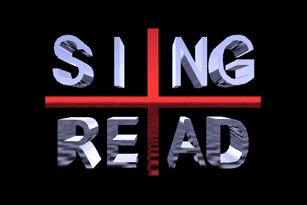 The most flexible and affordable (NOW FREE!) software for displaying songs, hymns, Bible passages, notices and orders of service in a worship setting! So easy to operate, even non-technical volunteers will learn it quickly, and enjoy using it! This is the software replacement for your overhead projector!
Anyone who can use an overhead projector
can use SING AND READ!
--- CAN BE USED WITH "INTERNET BROADCASTING" ---

Pricing
The trial version is the download, and upon registering can be updated to the full version.
Description
Version
Price
UK£
US$
CAN$
Single Screen Version.
(Full upon free registration)
1.6.6

FREE!

FREE!

FREE!

Dual Screen Version.
(Purchasable online via PayPal)
2.0
£89


FREE!

~$149


FREE!

~$199


FREE!
If you like 'Sing And Read' and wish to keep using it, we don't charge a cost but would ask that you considering making a donation to the years of work that went into this product, using the link below or on the left. This is for those who like the product and want to help with the costs of development and maintenance.